Search And Rescue
From TBSPedia
TBSP Search and Rescue Team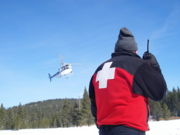 Welcome to the TBSP Search and Rescue team homepage.
With the first N. Cal. search of the season in the news this is the time to think TBSP-SAR. Last year the Far West Division gave us 15 radios (ICOMS), some rope rescue gear, and 3 Mega-Lite tents. We presently have about 30 members, 2/3 from TBSP. The recent search in Butte County involved over 100 searchers. They couldn't find the lost folks who were only 1.5 miles from their car and on (under) alogging road. California needs our team and its backcountry skills!
Required Training
Active TBSP patrollers have all have the training required to join the team. AVY1 is the only required course. Most of you have the necessary equipment: probe, shovel, transceiver, GPS, clear goggles. Candidates are not eligible, but they have enough to keep them occupied.
Callouts
We don't expect all members to respond to a given mission. Respond when you can. Training is scheduled in January covering Care-Flight, rope rescue (similar system to TBSP's), navigation, and a night search problem. You have had this training, although you can't do enough night search training, especially in bad weather.
Callout Procedure
Our new callout procedure involves an automatic dialing service. All of your numbers will be dialed unless you tell me otherwise.
ID Cards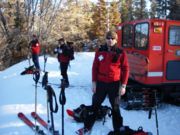 We are required to carry OES ID Cards during all SAR missions. To produce your card we need a digital or paper headshot. Please email it to sarids@tbsp.org. We need all of this information in one file, so please send the photo to him even if you sent an earlier one to me. I also need the name and phone number(s) of someone to notify in case of emergency. Please send that info to me by email. You will be issued a temporary ID card until the laminated ones arrive.
Registration with TBSP-SAR
Dues are $25 per year to cover administrative expenses (mostly call-out technology). You must also register as a California Disaster Worker. That involves taking an oath in front of a Notary (no charge).
If you are interested, and I sincerely hope that you are, please contact sar@tbsp.org
To register as a California Disaster Worker:
Obtain a copy of the form on page 14 (15 of the PDF) in the Disaster Services Worker guide [available at http://docs.tbsp.org/view.php?fDocumentId=99]
Take the loyalty oath before a notary
Get the original to Mike before any training or missions
Non-TBSP Patrollers: NSP Secondary Registration
Members from other patrols will have to complete a registration form to become secondary members of our patrol; there is no additional charge. Please email sar@tbsp.org for details.

SAR Pack Contents
The idea is to travel fast and LIGHT. Here's what your SAR ready pack should contain:
Transceiver (check batteries-have spares)
Probe
Shovel
Skins (snowshoes? Depending on terrain to be covered)
Headlamp w/ extra batteries
Sun stuff (glasses and lotion)
Goggles
Clear goggles (night storms)
GPS
1 gallon ziplock bag containing

Compass
Lat/Long scaler
UTM scaler
pencil or space pen

Spare clothing
20' red 1" tubular webbing
20' 6mm accessory cord
2 locking biners
Personal prussik cord
Food for 72 hours
Water bottle
Survival kit
Up to 50' of parachute cord
20' soft wire
Windproof matches
Fire starter
Razor blade
Emergency Mylar sleeping bag
6 x 8 blue tarp
Small waterproof notebook and space pen
Small personal first-aid kit
Spare binding cable and screws
Toilet paper and plastic bags for waste
Not much else!