Difference between revisions of "TBSP Introduction"
From TBSPedia
Line 84:
Line 84:
 

== Apply now! ==

 

== Apply now! ==

 
 
−

Contact [mailto:patrol@tbsp.org patrol@tbsp.org] for more information, or submit a patrol candidate application here: http://tbsp.org/application

+

Contact [mailto:patrol@tbsp.org patrol@tbsp.org] for more information.

 
 
 
 
 

__NOTOC__

 

__NOTOC__
---
Revision as of 13:46, 4 April 2011
The Tahoe Backcountry Ski Patrol in partnership with the U.S. Forest Service provides information and assistance for backcountry travelers in the Tahoe National Forest and Humbolt-Toiyabe National Forest. TBSP also provides community education, basic and advanced avalanche and mountain travel/rescue training for ski patrollers, and winter Search and Rescue services in Northern California. Join us on patrol!
Where and when we patrol
Most of our patrolling takes place in California's Tahoe National Forest in the Castle Peak area north of Donner Summit and on the Pacific Crest Trail. It's the most popular destination that we patrol, not just among backcountry skiers and snowboarders, but also a fair number of snowshoers on their way to spend the day or overnight at the Sierra Club's Peter Grubb Hut. Our primary patrol destination in Nevada is the Tahoe Meadows area and its neighboring wilderness zones near Mount Rose, high above Incline Village and with breathtaking views of Lake Tahoe. Other Tahoe National Forest destinations are various corniced ridges and traverses adjacent to the popular local ski resorts of Squaw Valley, Alpine Meadows, and Sugar Bowl. Read more about our Patrol Areas in the Patrol Manual.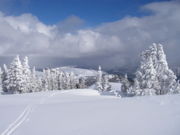 The TBSP patrol season is more than 40 weekend days from mid-December through mid-April. All patrol days are on weekends, with a few three-day weekends on federal holidays. A typical patrol day begins at 8:30am and ends before sunset (about 5:00pm).
HOW TO JOIN
Tahoe Backcountry Ski Patrol is always looking for dedicated and enthusiastic winter backcountry lovers to join the patrol. TBSP is in search of folks willing to learn a new set of skills or two, while spending their weekends serving skiers, snowboarders and snowshoers that venture out into the mountains of northern Lake Tahoe. We invite anyone interested in learning more about backcountry ski patrolling to join us on a [SkiAlong] this season. Keep an eye out for our trail head signs and white crosses the next time you're out earning your turns!
If you are interested in joining the patrol, join us for a SkiAlong on selected weekends and spend a day with TBSP on patrol. In mid April, we host "Introduction to Ski Patrol", a one-day introductory on-the-snow event in the Castle Peak area. The event will include a ski test in addition to a presentation on backcountry safety, a demonstration of patrol emergency response, and opportunities for questions and answers. Attend our Introduction to Ski Patrol day or contact the recruiter for more information recruiter@tbsp.org.
Prospective candidates should sign up for an Outdoor Emergency Care course in their area. The classes are usually held at different times of the year, from late spring to late November, however enrollment capacity is limited and it is strongly suggested that people sign up as soon as the course is announced.
Patrol Requirements
Patrollers are required to participate in a total of (10) days a year, which includes a fall OEC/Operations refresher (two days), a one-day On-the-hill refresher in December, and seven additional days of regular patrol duty. All these days are on weekends. Many members put in additional days simply because they enjoy the experience. Others get patrol day credit whenever they help as an instructor on a training day. Incentives and/or prizes are often awarded to those who volunteer extra days.
New candidates must satisfy the following requirements to attain patroller status. The minimum commitment is 12 days the first year, and 8 days during subsequent seasons, in addition to the 120 hour OEC course.
Successful completion of the Outdoor Emergency Care (OEC) course, a comprehensive first aid course developed by the National Ski Patrol (NSP) specifically for ski patrollers and other outdoor rescuers.
Current certification in two-rescuer CPR (American Red Cross CPR for the Professional Rescuer, or American Heart Association equivalent).
NSP Avalanche Level 1 for the Professional Rescuer and participation in TBSP Field days (3 days).
NSP Mountain Travel and Rescue, Level 1. (3 days: 1 classroom, 2 overnight snowcamping).
NSP Introduction to Ski Patrol for TBSP (1 classroom and 4 patrol days, including at least 16 hours of backcountry OEC skill enhancements and instruction in TBSP policies and protocols).
Be a patroller in Good Standing, i.e. signed up for the appropriate number of days. This will require between 1 and 5 days spent shadowing a regular patrol during your candidate year.
Successful completion of the final candidate skills evaluation on the snow.
Candidates without OEC are encouraged to join the patrol and may get their certifications in Avalanche and MTR prior to taking the OEC course. The OEC Courses fill up quickly, and you are encouraged to sign up for OEC in the early spring.
Medical and Training Requirements
All candidates must pass the Outdoor Emergency Care (OEC) course taught by volunteer National Ski Patrol instructors. This course is taught in the San Francisco Bay Area, the Sacramento Area, the Reno/Lake Tahoe area and Modesto each year at various times from June through November. Fees range anywhere from $60 to $450. Starting the year after you complete the OEC course, you must attend an annual OEC refresher each fall hosted by our patrol. Normally, there is no charge for these refreshers.
Candidates who are currently certified EMTs, paramedics, nurses, or doctors may be able to "challenge" the OEC course but must still take the practical course final. More information on this course challenge may be provided.
All candidates must be certified in two-rescuer CPR (American Red Cross CPR for the Professional Rescuer or American Heart Association equivalent). Appropriate CPR courses are sometimes offered in conjunction with OEC courses, but not always. However, suitable courses are available through your local chapter of the American Red Cross or the American Heart Association. These certifications must be renewed annually (typically a 4-hour course) and there is a fee.
Four of the training days are devoted to OEC training in the snow, during which the principles learned in the OEC course are applied in realistic conditions, on the snow. Candidates learn TBSP-specific OEC skills such as a webbing-strapped backboard and use of a Kendrick Traction Device (KTD).
As a candidate, you are required to take the NSP Basic Avalanche and Basic Mountaineering courses, both of which are taught by TBSP. Upon completion, you will receive NSP certification in these two disciplines. In Basic Avalanche training you will attend classroom and field sessions in which you will learn snow science and avalanche fundamentals, dig snow pits and use transceivers or beacons. In Basic Mountaineering training (which for TBSP's purposes includes material beyond the NSP requirements), you will attend classroom and field sessions including a mandatory overnight in the snow. Topics include emergency fire building and shelter construction, use of white-gas stoves, use of map and compass and map coordinate systems, radio communications, construction and use of rescue toboggans, low-angle rope rescue techniques, field repairs of equipment, knots, helicopter procedures, limited search and rescue techniques, equipment cache utilization, and incident leadership. The Basic Avalanche and Basic Mountaineering training days are partially combined, for a total of eight days, of which 1½ are in a classroom and 6½ are in the field.
By the time you are fully trained, you should be able to competently handle any backcountry emergency. The one-day, scenario-based, final OEC examination on the snow, which all candidates must complete successfully to become patrollers, will require you to use most of the skills learned in your training.
Skiing Ability
Candidates must be able to ski proficiently at a strong intermediate or better level on backcountry equipment (telemark, backcountry touring, or randonee) in a variety of conditions. For freeheel skiers, a strong telemark turn is desirable but not required. We patrol in both intermediate and advanced backcountry terrain, and candidates will be assigned to terrain matched to their skiing ability. A ski test will be held in the spring prior to, or the winter of their candidate year to assess all candidates' abilities. We are now beginning to accept backcountry snowboarders as candidates, based on ability and experience level. Snowboarders will be required to be in very good physical condition, as they must be able to keep reasonable pace with ski-bound patrollers on climbs and on the flats while on snowshoes or short skis. Proficiency requirements are defined in the Patrol Manual Appendix E: Proficiency Requirements.
Required Equipment
Required personal equipment is defined in the Patrol Manual Appendix A: Required Personal Equipment.
The following types of equipment can be used for patrolling:
Metal-edge skis with fitted skins and either a sturdy freeheel binding, randonee binding, or alpine binding and freeheel adapter (e.g. "alpine trekker")

NNN-BC bindings and/or fishscale skis are strongly discouraged

Snowboarders must bring snowshoes, short x/c skis, or "Split-Decision" type snowboards in conjunction with ski poles for moving while on flats or uphills. No walking or postholing in snowboard boots alone is allowed.
Poles, preferably adjustable-length, ideally convertible to a probe; required for both skiers and snowboarders
Dues and Candidate Fees
TBSP patrollers pay annual membership dues. For the 2009-2010 season, these dues are $92.00. Dues can be paid online at http://www.skipatrol.org/dues/tbsp. Instructions to pay by check are posted there as well.
In their first season, candidates must pay an additional fee. This training fee of $160 covers the Avalanche and Mountain Travel & Rescue instruction and texts, the use or purchase of TBSP Patroller's Manual, a training equipment use fee, and a patroller's pin which will be awarded upon successful completion of candidate training and service. All fees are due by November 10 2009, prior to the season start. There is a late registration fee of $10 assessed after this date. Upon receipt of the payment, candidates are sent the manual and training texts in preparation for the fall training courses.
Candidates who sign up after November 10 are invited to come along for shadow patrol days but may not be invited to all trainings.
Benefits
TBSP Patrollers are entitled to certain benefits, including medical coverage and equipment discounts.
Medical Benefits
The U.S. Forest Service provides candidates and patrollers with worker's compensation medical benefits for injuries suffered while engaged in field training or patrolling. By comparison very few alpine patrols are offered such benefits.
Equipment Discounts
Once you successfully complete your candidacy and pay your dues for the next season, you will be eligible for pro- form discounts on equipment. The equipment must be for the member's personal use, and must be purchased through the Patrol. Discounts vary by manufacturer and item, but we have had excellent discounts from many first-class companies, including Asolo, Merrill, Tua, Leki, Lifelink, Dana, Gregory, Lowe, Mountain Hardwear, Mountainsmith, Spyderco, NorthFace, NiteRider, MSR, Outdoor Research and others. We normally place orders twice a year.
Alternative pro-form discounts may be offered from year to year, with differing requirements on ordering method, timing, manufacturers involved, and discount offered.
Benefits of National Ski Patrol Membership
As a member of the National Ski Patrol System, you will be eligible to purchase items from the NSP catalogue, many of which are offered at a discount. You will also receive a subscription to Ski Patrol magazine; each issue is full of informative articles on first aid and emergency care, skiing techniques, and more.
Apply now!
Contact patrol@tbsp.org for more information.